Facials
We offer a selection of treatments including Hot Stones, Bamboo Massages and Signature Treatments. All treatments need to be booked alongside a 2-hour spa session.
Treatments are available as of 2nd January 2022. Any 85-minute treatments are available from February 2022.
All treatments need to be booked in advance by contacting our Reservations team on 01225 33 1234.
Tailor-Made Facial
A bespoke facial designed to suit your individual skin needs. A combination of the finest pure essential oils and plant extracts re-condition your skin, leaving the complexion smooth and luminous. A facial massage eases tension and helps tone the muscles. A head massage, inhalation of frankincense and an arm & hand massage complete this relaxing facial.
£80 - 50 Mins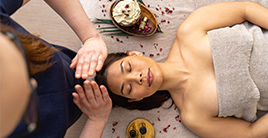 Not recommended if you have had recent surgery, cancer within the last 5 years or have any of the following:
Within the first three months of pregnancy
This treatment is good for:
All skin types
Pregnant women after first three months
Age Repair Facial
This radiance-boosting, anti-ageing facial takes you on a luxurious tailor-made ritual. A gentle, but targeted massage is performed around the eyes with anti-ageing oils to lift, firm and rejuvenate the eye area. Followed by a head, shoulders and face massage using personally selected aromatherapy oils. The ultimate facial!
£90 - 50 Mins
Not recommended if you have had recent surgery, cancer within the last 5 years or have any of the following:
Within the first three months of pregnancy
Severe iodine allergies
Severe fish allergy
Thyroid problems
This treatment is good for: