Mums-to-be
These range of treatments are suitable for expectant women after the first three months of pregnancy. Please be aware that we do not permit pregnant women to visit the Spa if they are past 32 weeks. To see our full reccomendations for pregnant women visiting the spa, please visit our Useful Information page.
Tailor-Made Facial
a bespoke facial designed to suit your individual skin needs.A combination of the finest pure essential oils and plant extracts re-condition your skin, leaving the complexion smooth and luminous. A facial massage eases tension and helps tone the muscles. A head massage, inhalation of frankincense and an arm & hand massage complete this relaxing facial.
£72 - 50 Mins
Not recommended if you have had recent surgery, cancer within the last 5 years or have any of the following:
Within the first 3 months of pregnancy
This treatment is good for:
Pevonia skin care range
Prescriptive skin care- products recommended by your skin care therapist
Mum-to-be Massage
This treatment has been specifically designed to pamper Mums-to-be and is suitable after the first three months of pregnancy.
To start, a back massage eases away aches & pains followed by a soothing head, neck & shoulders massage. A hand & arm massage aids the release of tension and is finished off with an exfoliation of the feet and a gentle massage of the lower legs, leaving you calm and relaxed.
£79 - 50 Mins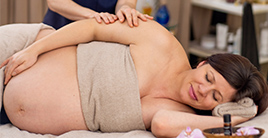 Not recommended if you have had recent surgery, cancer within the last 5 years or have any of the following:
Within the first three months of pregnancy