Treatments
At Thermae Bath Spa, you can choose from a wide range of spa, health and beauty treatments. Individual treatments are available every day, including weekends. The time allocated for a treatment is in addition to the spa session. Please note we do not offer spa treatments to people under 18.
Treatments should be booked in advance by calling 01225 33 1234 (From Overseas 44 1225 33 1234) and can only be booked along with a spa session.

Many of our great value Spa Packages offer a combination of spa sessions and treatments plus the option of a meal in the Springs Restaurant.
Bookings are now open for spa treatments & packages in 2020 from September onwards.
These individual treatments take full advantage of the natural thermal waters or aromatherapy essences and their associated health benefits.
For thousands of years the ancient art of massage has been used to bring benefits to health and well-being.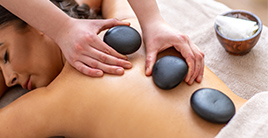 The heat of the volcanic basalt stones travels deep into the muscles stimulating warm relief and relaxation.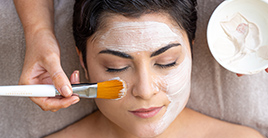 Relax while your skin is cleansed, toned, exfoliated and moisturised. All facials are individually tailored to your skin requirements and include a head massage.
The range of aromatherapy based body treatments have been selected to pamper the body and rejuvenate the skin.
These range of treatments are suitable for expectant women after the first three months of pregnancy.