Spa Packages
In line with government guidance, our treatment and package menu has been temporarily revised to the Twilight and Thermae Revive package.
Please note, the time allocated for treatments in a package is in addition to the spa session. Children under 16 are not permitted in the New Royal Bath whilst we do not offer spa treatments to people under 18 (proof of age required). Based on medical advice, we do not permit pregnant women to visit the Spa if they are past 32 weeks.
The Thermae Revive package offers you the chance to bathe in Bath's natural thermal waters and choose one of our most popular massages.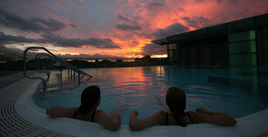 Opportunity for a couple to soak up the changing atmosphere of the Spa and sample the delights of a Twilight package.