Treatment of the month: De-stress Massage
19 January 2017
January & February can be stressful months. All those commitments and meetings you put-off until the New Year have crept up on you and you may find yourself a bit bogged-down. With the notorious post-Christmas blues, it's important to take care of yourself and the De-stress massage is perfect for those searching for a bit of "me time".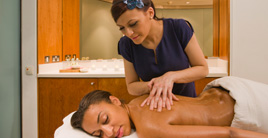 Inspired by a combination of Eastern and Western massage techniques, the De-stress massage is tailored for those looking to ease any physical and mental symptoms of stress. A firm, full-body treatment, the De-stress massage is effective for those feeling like they need a break from every day stresses, harnessing the power of aromatherapy to bring peace to your mind.
What to expect from your De-stress Massage?
The De-stress massage is an intensive and restorative massage using the warming scents of black pepper, rosemary & ginger essential oils to improve circulation and ease stiffness and pain. Meanwhile, calming lavender leaves you feeling soothed and relaxed.
The De-stress massage involves treatment on both your back and front, with focus on the back, neck and legs. Begin your massage with a warming, comforting hot mitts treatment on the feet, followed by an invigorating and circulation-boosting body brushing to the back of the body.
A deeply penetrating aromatherapy gel rich in relaxing and healing lavender, warming ginger and black pepper and refreshing rosemary is then applied to sink into the muscles, releasing aches and pains whilst relaxing the mind.
The massage then begins, layer locking in the essential oils with the matching Aromatherapy Associates De-stress muscle body oil. Firm yet relaxing techniques - encompassing the best from East and West - are applied to melt muscular tension and soothe worries away.
Your back will be worked-on, followed by the legs, the front of the legs, your arms, finishing with your décolleté, neck and finally, relaxing scalp pressures. Your therapist will use different and intricate massage techniques to transform your tight, tense muscles, leaving you feeling relaxed, rejuvenated and ready to fight another day.
Try the De-stress Massage if…
You have a busy mind or are feeling every day stress, and you enjoy a firm and deep massage that will make your pressures and tensions melt away.
Speak to a therapist for further advice about the De-stress Massage if…
• You are looking for a lighter massage
• You are pregnant
• You have had recent surgery or cancer within the last five years
• You have epilepsy not controlled by medication
What products will be used?
Destress muscle gel
Destress muscle body oil
Aromatherapy associates body brush
Are you ready to let go of tension and rejuvenate your body and mind?
Don't let January & February get on top of you. Call 01225 33 1234 to book your De-stress massage now.