A Week of Wellness
05 September 2017
As the only day spa in the UK with access to natural thermal water, Thermae Bath Spa has wellness at the very core of its offering and its ethos. Every day, guests come to 'take the waters' and let the heat and minerals work their magic.
This year Thermae is taking part in National Spa Week by hosting a series of special events designed to celebrate the history, culture and well-being synonymous with the Spa City of Bath.
Most of the events and activities, which run from Monday 30th October to Saturday 4th November, are free.
Tempted? Take a look at what we've got planned:
Monday 30th October
Spa-themed walking tour of Bath: 2.30pm - 4pm - Free
Join an expert guide for a fascinating spa-themed walking tour of Bath! This free tour departs at 2:30pm from outside the main reception of Thermae Bath Spa and will last approximately 1.5 hours. No booking required.
Tuesday 31st October
Cross Bath Open Day: 10am - 5.30pm - Free
The historic Cross Bath, situated opposite Thermae Bath Spa, will be open for free 1-hour bathing sessions at 10.00, 11.30, 13.00, 14.30 and 16.00. An intimate open-air thermal bath with its own changing facilities, the Cross Bath is fed by its own poolside fountain.
Guests wishing to bathe in the Cross Bath need to bring their own swimwear (a towel will be provided). Children aged between 12 - 16 are permitted as long as they are accompanied by an adult on a 1:1 ratio.
Numbers per session will be limited and places must be booked in advance by calling the Reservations team on 01225 33 1234. A £10.00 deposit is payable in advance which will be refunded on the day.
Wednesday 1st November
Free Thermae Bath Spa Shop Consultations: 11.30am - 4.30pm
All guests are welcome to visit our Thermae Bath Spa shop in Hot Bath Street to have a complimentary wellness consultation from an Aromatherapy Associates expert. This includes a sensory consultation followed by an express hand and arm massage using your chosen oil. You can also receive a free gift with the purchase of any Aromatherapy Associates products over the value of £30 after your consultation.
For more than 30 years, Aromatherapy Associates, has been specialising in wellness, mindfulness and leading a balanced life. With a vision that has remained unchanged for a generation with a simple concept: sharing the power of essential oils and incredible effects at a therapeutic level. By harnessing the natural healing effects of the finest ingredients, purest extracts and essential oils, their core range of blends has become a phenomenon in the beauty world and they are recognised as leaders in the mindful beauty field. Aromatherapy Associates offer a purposeful range encompassing Bath & Shower Oils, skincare, body care, home, travel and gifting.
Consultations will be given on a first come, first served basis, and no booking is required.
Thursday 2nd November
Live Music in The Minerva Bath: 6pm - 7.30pm
All guests in the indoor Minerva Bath can enjoy the uplifting sounds of the band 'Latino Groove' whilst bathing in the natural thermal waters! Only open to paying guests using Thermae Bath Spa.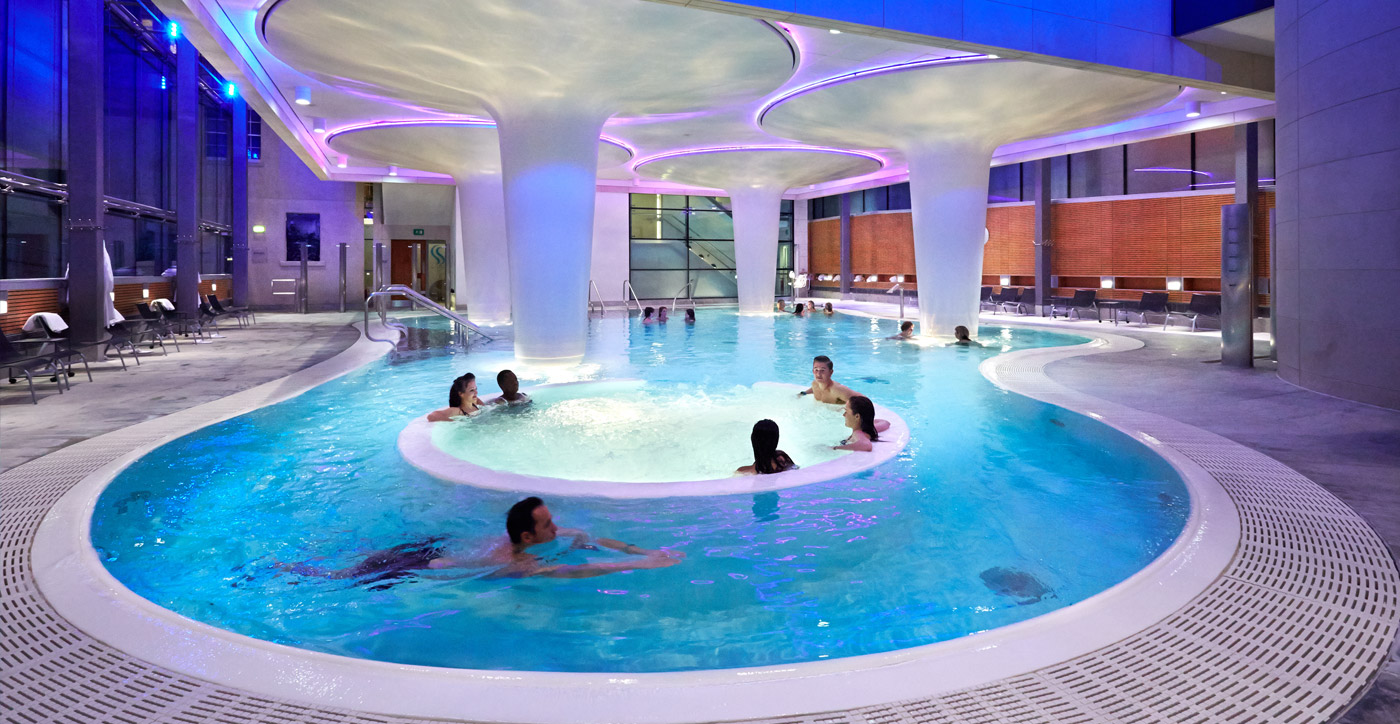 Friday 3rd November
Aquasana in the Rooftop Pool: 8.15am – 9am
Before the normal opening time of 9am, Thermae Bath Spa is offering guests the chance to take part in a session of Aquasana in the open-air Rooftop Pool. The Aquasana session is free but must be taken in conjunction with a Thermae Welcome, which will give full use of the spa facilities from 9am.
Guests will partake in an invigorating aqua fitness session that combines classic yoga postures, balancing Tai Chi and strengthening moves to stretch and tone the body in the mineral enriched waters of the Rooftop Pool. With no experience required, try something truly special and harness the healing properties of our natural thermal waters.
Numbers for the session will be limited and can be booked in advance by calling the Reservations team on 01225 33 1234.
Saturday 4th November
Return to Wellness Day: 10am - 3.30/4.30pm - £35 - SOLD OUT
At the Gainsborough Bath Spa
In conjunction with The Gainsborough Bath Spa and Aromatherapy Associates, we have devised a 'Return to Wellness' Day on Saturday 4th November, from 10:00 until 16:30. Return to Wellness will help attendees to rediscover their passion for health and wellbeing via a day-long series of wellness-related activities.

Return to Wellness costs £35 per person, and includes an optional morning yoga class, a mindfulness masterclass, an expert talk on nutrition, a delicious two-course lunch, a life coaching session, then finishes with the opportunity of a relaxing spa session in the natural thermal waters of the beautiful Spa Village. Attendees will also receive goody bags containing some Aromatherapy Associates products and a discount voucher for Thermae Bath Spa.
The Return to Wellness Day:
| | |
| --- | --- |
| 10:00 - 10:45 | Yoga (optional) with expert practitioner, Rebecca Bridgford |
| 10:50 | Tea and coffee |
| 11:10 | Mindfulness Masterclass with Aromatherapy Associates Wellness Expert, Jonathan Ward |
| 12:10 | Talk on Nutrition with Aromatherapy Associates Wellness Expert, Yvonne Wake |
| 13:00 | Delicious two course lunch in The Gainsborough Restaurant by Head Chef Dan Moon |
| 14:30 | Life Coaching session with Aromatherapy Associates Wellness Expert, Yvonne Wake |
| 15:20 | Tea and coffee |
| 15:30 | Bath House Experiences in Spa Village (optional) |

Tickets cost £35 and include all of the classes, activities, lunch and the spa session. To find out more and to book your place, call 01225 355329 or email events@thegainsboroughbathspa.co.uk. THIS EVENT IS SOLD OUT
Monday 28th October - Saturday 4th November
Free Gift from Aromatherapy Associates with selected spa treatments
We are offering all guests who have one of our nicest treatments, Georgian Rose Trilogy or Soothe & Smooth a free Aromatherapy Associates gift!
To book your treatment please call our reservations team on 01225 33 1234.